Season 1, Ep 20 - The Wedding Planner
"The Wedding Planner" is the twentieth episode of season one of Hello from the Magic Tavern. It was originally released on July 13, 2015. This episode features Katie Rich as Souza Gurnick the Wedding Planner.
Description
"This week I meet one of the best wedding planners in Foon… assuming you're not a tree."
Summary
It's Chunt's birthday today, and it is rude to ask a shapeshifter their age. For his birthday, he gets spiced potatoes with candles and asks Usidore to make him a tiny horse with three buttholes. He says he loves having two buttholes so much, he turned down sex with with a Mighty Duck just so he could go home and poop.
Arnie's guest today is Souza Gurnick, a wedding planner in Foon. Her business used to be called "Wedlock for Warlocks", but was forced to change when she lost a discrimination law suit after refusing to plan a wedding for a goblin who was marrying a tree. She tells the group about her personal issues, including that she is an orphan, and the parents that left her were a goblin and a tree. Chunt finds out that she is "domestic partners" with his cousin Stemopoulos. Everyone sings Chunt the Foonish Happy Birthday song.
After the sponsor break, Usidore asks Souza if she would plan a wedding between him ("a wizard") and a girl trapped inside a crystal coffin1. Chunt asks Souza about Arnie's predicament, and she says that she thinks Arnie is a jerk for spending so much time on his podcast, and that his wife has probably moved on, as a common wedding vow in Foon is "I promise not to disappear without warning for months at a time". The guests talk about their favorite wedding traditions:
Weddings where the couples fly outside the chapel and meet in midair
The bloodletting, where couples throats are cut, the blood collected by a flower girl, and then the couple's throats are sewn back together
The opening of the blood by the couple on their 5th, 10th, and 15th anniversary (20th anniversary is warts)
Cutting of the cake and hoping to get the piece with the eyeball in it, which means you are the next to die
They ask Souza about hypothetical couples and if she would marry them or not. Arnie is reminded that there are Jewish people living in Foon2. She then talks about her programs for at-risk youth, as 80% of youth in Foon are "at-risk".
In the email segment, Arnie learns that a Mysterious Man is altering his podcast, and that "Adal Rifai" is not a spell. Chunt offers his tiny horse to Souza, who apparently already has one. Arnie's wife Sarah suddenly enters the Vermilion Minotaur, cries for help, and flees. Arnie immediately chases after her.
Foon sponsor
Today's sponsor is Bungaree Chubbins, who is selling his family's chamber pots.
Earth references
Behind the scenes
The Wedding Planner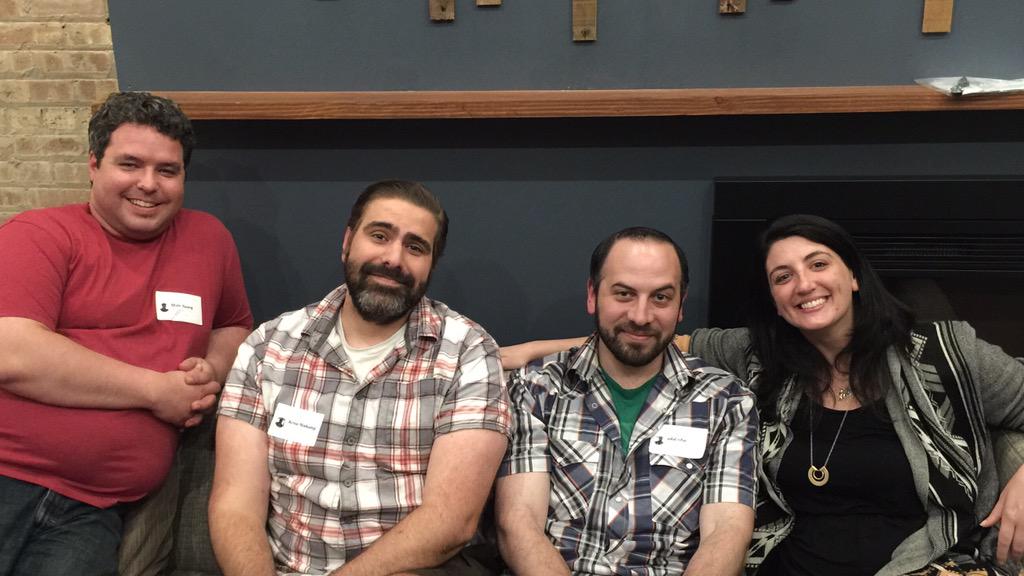 Usidore, Arnie, Chunt, Souza Gurnick
page revision: 21, last edited: 14 Feb 2020 19:40