Season 1, Ep 35 - Earth Stuff
"Earth Stuff" is the thirty-fifth episode of season one of Hello from the Magic Tavern. It was originally released on November 2, 2015. This episode features Brendan Dowling as Benedict Whisperbrew.
Description
"Earth. Stuff."
Summary
Arnie decides it's time to do an "Earth Stuff" episode after a listener email asks him to. He's re-invited Benedict Whisperbrew to this episode, who has not been doing well. After failing to deliver Arnie to the court of Titania Belaroth for the Festival of the Satiated Hippogriff, he has been demoted to Adjunct Eunuch and needs to take classes and reapply to become Court Eunuch again. He briefly considers going back to his old job, writing the shortest stories on Foon. Prompted by his short stories, Arnie shares the Ernest Hemingway story, "For sale: baby shoes, never worn". Benedict thinks it's the story of an inconsiderate gift, Chunt thinks the baby died, and Usidore thinks the shoes were evil. They also seem surprised to learn that there are no evil babies on Foon, and it turns out that babies sleep for much longer (months instead of hours) on Foon than Earth.
Usidore asks what an Elon Musk is; Arnie doesn't know. Chunt asks what a Hamilton is and how he can get tickets; Arnie doesn't know, and doesn't even seem to know who Alexander Hamilton is; Benedict uses the power of his imagination to guess that he was a Secretary of the Treasury. Usidore thinks it's a type of cookware, Chunt thinks it sounds like a type of duel, and Benedict jokes that it sounds like a way to liquefy a pig. Chunt asks what a Houdini is, and when Arnie balks at the question, Usidore believes that Arnie never wanted to talk about Earth stuff because he doesn't really know any of it.
Arnie discusses what courtship is like on Earth, and he tells his story with Sarah: they met on the job doing "promotional work" where they walked around with their faces painted blue and talking into a phone. This makes sense to the panel as blue is the color of seduction on Foon. Their first date was to see the Chronicles of Narnia, and the story sounds strangely like the real events of Portabella, the magnificent Ivory Sorceress. Arnie proposed to Sarah before going to see It's A Wonderful Life, and while Arnie is explaining the plot of the movie to everyone, the Hogsface town bell rings. In Foon, it is said that every time a bell rings, a puppy dies. Arnie doesn't finish the proposal story.
After the emails, Benedict says he will be signing up for his classes in October, and Arnie points out that he may have already missed the deadline.
Emails
A listener asks Chunt to ask Arnie about professional wrestling, which Arnie describes as "theatrical fighting". It sounds like something Krom the Barbarian would be interested in. Arnie's favorite wrestler was Hulk Hogan, and is confident that nothing would have happened in his absence from Earth to tarnish his name.
How many ranks of royalty are there in Foon? Four.
What is the ghostly voice after the podcast? Arnie is sure that any weird talking after the podcast is some kind of technical difficulty.
Earth references
"For sale: baby shoes, never worn" by unknown author, often misattributed to Ernest Hemingway
Baby formula
Elon Musk
Hamilton, Alexander Hamilton
Hamilton Beach appliance company
Hamlet
Online dating
Harry Houdini
Davis Theater in Chicago, IL
Chronicles of Narnia
It's a Wonderful Life
Behind the scenes
Earth Stuff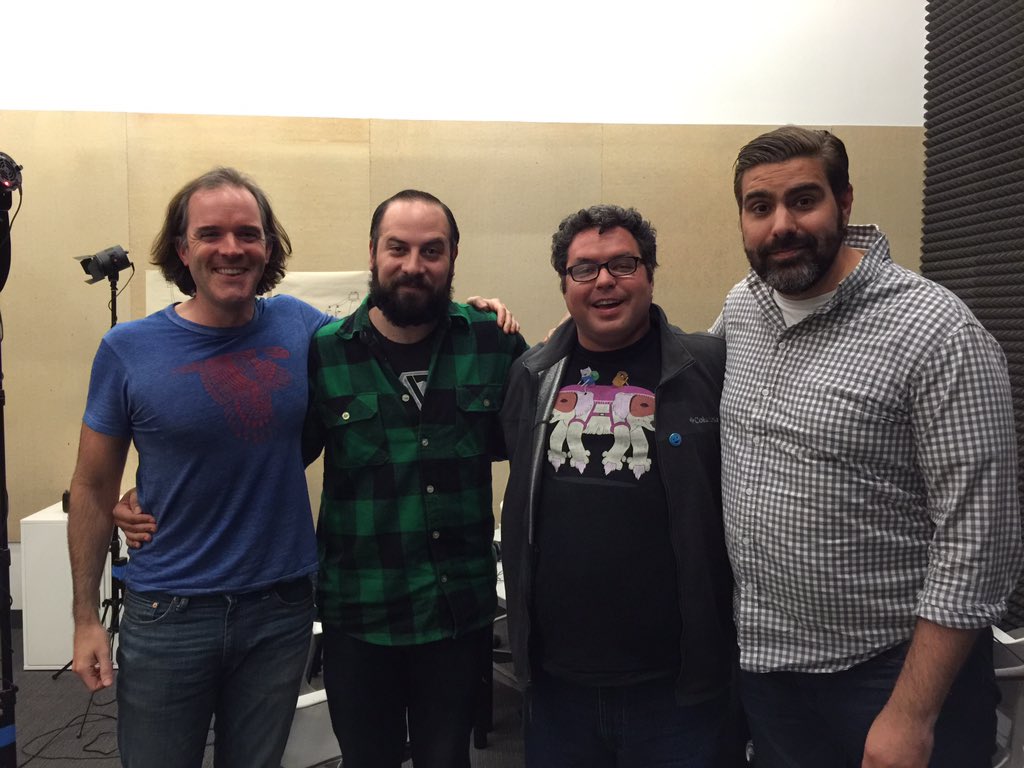 Benedict, Chunt, Usidore, Arnie
page revision: 16, last edited: 14 Feb 2020 20:01