Season 1, Ep 37 - Tannakin the Pinglet
"Tannakin the Pinglet" is the thirty-seventh episode of season one of Hello from the Magic Tavern. It was originally released on November 16, 2015. This episode features the first appearance of Sarah Fineout as Tannakin the Pinglet.
Description
"I was trying to teach Usidore the Earth phrase "when pigs fly." One thing lead to another and I met this week's guest."
Summary
Chu Chu's Chow is still going strong, and they talk about the various methods they've tried to implement delivery service, including sentient food. Chunt has brought in a spiced potato that is still alive and screaming in terror, Gorgeous. Arnie and Usidore think he'll have sex with it (and wonder what will happen to Chunt's form), but Chunt insists that it is just his friend now. Usidore gleefully laughs at its screams.
Their guest is Tannakin the Pinglet, a "micro pig" with tiny flying wings. Tannakin is in town travelling, and explains what pinglets are, and shows them a game where you roll a small sphere to each other. Usidore conjures a sphere, they play for a small bit, and when Usidore sets the ball aflame, he loses, and according to the rules, must then fly around the tavern. Chunt is somewhat familiar with pinglets, as he has met wild pinglet cousins of Tannakin's. Tannakin reveals that she is travelling because bad witches ("bitches") are hunting pinglets for food, as they taste very delicious. She is accepting food, jewels, coins, and maps to help her plight. She is also raising money to build them an abode, and they discuss the kind of material that it should be made of. Chunt attempts to comfort Tannakin, which Usidore interprets as heavy flirtation. Tannakin demonstrates how pinglets fly and what they eat.
After the commercial break, Chunt tells Arnie that Usidore is suffering from PMS — Powerful Magic Seething. Usidore gives Tannakin another rock gift, this one which will grant a wish. She makes a wish, but she cannot reveal what it was lest it not come true. Tannakin loves to dance, and demonstrates her skill. She wants to start a reality competition that pits two people against each other doing jigs, and people that aren't involved can vote for the best dancer. Chunt then shows off his dance moves on top of a piece of cardboard. Arnie shows off the dance moves he does while sitting down and driving his car. Usidore dances as well as creates a light laser show. Tannakin then has a little bit of ale and gets a little tipsy. She says people can send her donations by mail or magic cannon. Chunt offers to let Tannakin stay inside of Pizza Skull as long as she wants.
Space Bunker Plot
We hear that the Mysterious Man is still injured as he reminds us that the podcast is not real, and has Craig do it for him at the end.
Emails
A listener tells Chunt that Arnie is lying every time he says "people on Earth are loving it". He suggest a dance for Chunt: the Chuntle Shuffle.
Can Chunt DJ, and will he DJ his bar mitzvah? Chunt can entertain, and while he obviously knows what a bar mitzvah is, he has no idea what a DJ is.
Usidore's dwarvish name "Zoenen Hoogstandjes" sounds a lot like some Dutch words, is dwarvish related to Dutch? Usidore is pretty sure it is not.
A listener suggests there should be clips of people talking over the intro music to the podcast, much like the Serial podcast. Arnie promises to try it out.
Foon sponsor
Today's sponsor is Otok Barleyfoot for the Vermilion Minotaur. The rumor of the week is that a necromancer has moved into the old Cranback place.
Earth references
Babe: Pig in the City
The Three Little Pigs
Pigs in a blanket
"This Little Piggy"
Premenstrual syndrome (PMS)
"Magic Dance" — David Bowie
Reality television
So You Think You Can Dance
Anakin Skywalker
Notes
Behind the scenes
Tannakin The Pinglet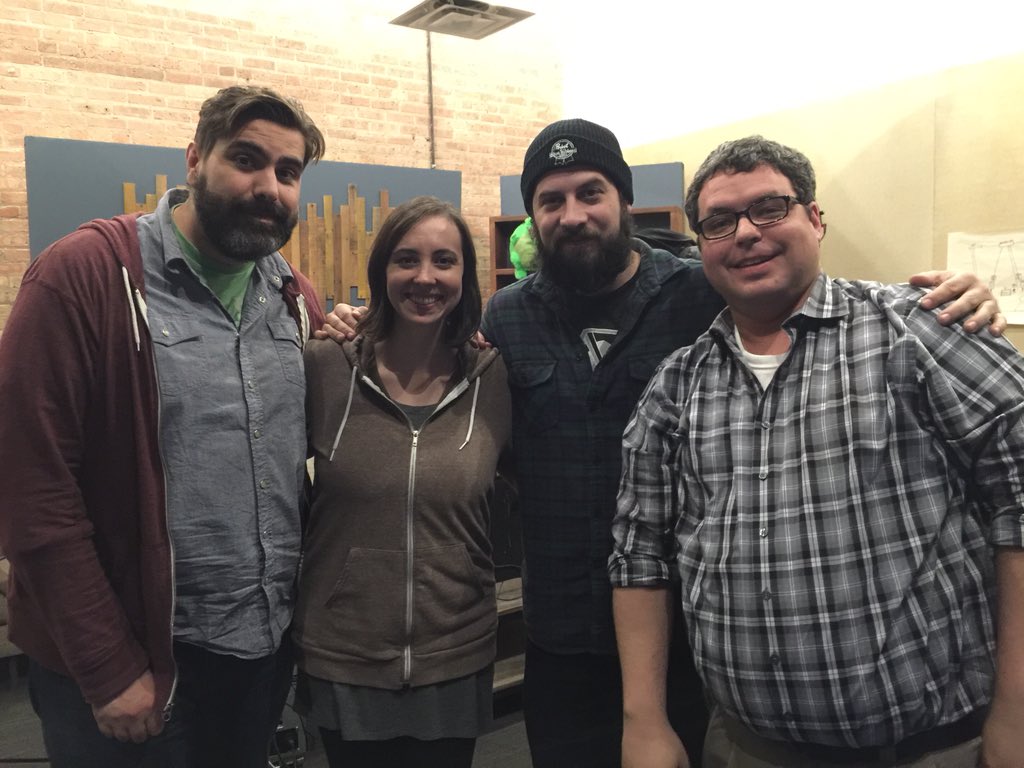 Arnie, Tannakin, Chunt, Usidore
page revision: 17, last edited: 07 Sep 2021 00:07