Season 1, Ep 45 - The First Jew of Foon
"The First Jew of Foon" is the forty-fifth episode of season one of Hello from the Magic Tavern. It was originally released on January 18, 2016. This episode features Daniel Strauss as Peter Smith, the first Jew of Foon.
Description
"I've always wondered how Judaism exists on both Earth and Foon. This week's guest has the answer!"
Summary
Usidore finally finishes signing the contract that he began signing last week with Arnie to keep him from interrupting his introduction. Usidore falls asleep and takes a blue potion to stay awake. Arnie asks for some health potions too because has already begun his dungeon crawl to get the Lunar Sword. He saw Clax there who was tougher to beat than he said he would be.
Chunt notices that birds have been flying upside down and backwards and trees are seeping blood, which Usidore takes as a sign that The Dark Lord has returned and reacts so badly that they think he's having a heart attack and half his face goes slack (Chunt wonders if they have Bell's Palsy on Earth); Usidore ends up taking a red potion twice during the episode to even out.
This week's guest is Peter Smith, the first Jew of Foon. He has been in Foon for about 137 years where time works differently since he looks much younger. He was originally named Menachem Lev and arrived from Spring Valley, New York on Earth via a ship through a super-hyper-interdimensional portal. He landed in Foon on Eric's Island, near the Waving Woman statue.
Peter brought the festival of Hannukah to Foon, which Jews celebrate there by lighting torches and marching through the streets reminding people of their superiority.
Peter has met Spintax the Green who taught him enough magic to create his own Jew magic to conjure tops (which is 90% of Jew magic), hats, and bean dip.
Some of the Jewish population in Foon are his descendants along with his wife Janice (née Fileekstax); others are converts. Janice is a magical creature with a tail, wings, and a horse's foot; her other three feet are normal.
According to Peter, the thing Jews wear on their heads is called a "birdstopper" (all one word) and is used to protect them from birds. He owns a haberdashery called "Top Hats".
At the Vermilion Minotaur, Peter ordered a Manischewitz (which he says is pronounced "Manichevitz").
Usidore interrupts the podcast to stand up and turn around three times and say "boogity boogity boogity boogity boogity boogity boogity boogity" because he violated the contract by calling Arnie "Arnold".
Most Jews live in the Woods of Holly where many of them also work. Much of the business in the Woods of Holly is based around woodworking and lumberjacking. Lumberjacks are so popular in Foon that fans want to meet them or will ask them to spit on their parchments. Sometimes these parchments are auctioned off on vBay, which is similar to Smeg's List.
Rumor of the week
Otok Barleyfoot says ships have been seen on The Lake, possibly from Migas, possibly pirates, possibly raccoon pirates.
Tavern takeaways
Chunt - The Path of Destiny: A path in McShingleshane Forest which leads you to your destiny. Chunt doesn't reveal what his destiny is, but Usidore says his is to defeat The Dark Lord and that he has known this long before the path existed.
Usidore - People should beware and not let themselves be influenced by The Dark Lord. Also, the gravy at Chundles and Scrr is to die for.
Peter - Just sit down for a little while and relax every so often.
Arnie - The TV show The Wire, available on HBO and Amazon Prime.
Emails
Chunt gets a letter from a listener who asks him to sing "Happy Birthday."
Usidore is asked by a listener what material his wizard's staff is made from; it's birch, and the crystal on top is hexatite.
A listener who has a "Boys' Night" with friends wants a ruling that his female friends can't have a "Girls' Night" but he is soon corrected. Arnie asks everyone else what their favorite night not yet referenced is. Chunt's choice is the knight Sir Lemonin, who Peter says is Jewish and very generous; Usidore likes "Non-Sexual Coed Night".
Earth references
Ellis Island, Statue of Liberty
Dreidel
Yarmulke
Hollywood
eBay
Craig's list
The Wire
Behind the scenes
The First Jew of Foon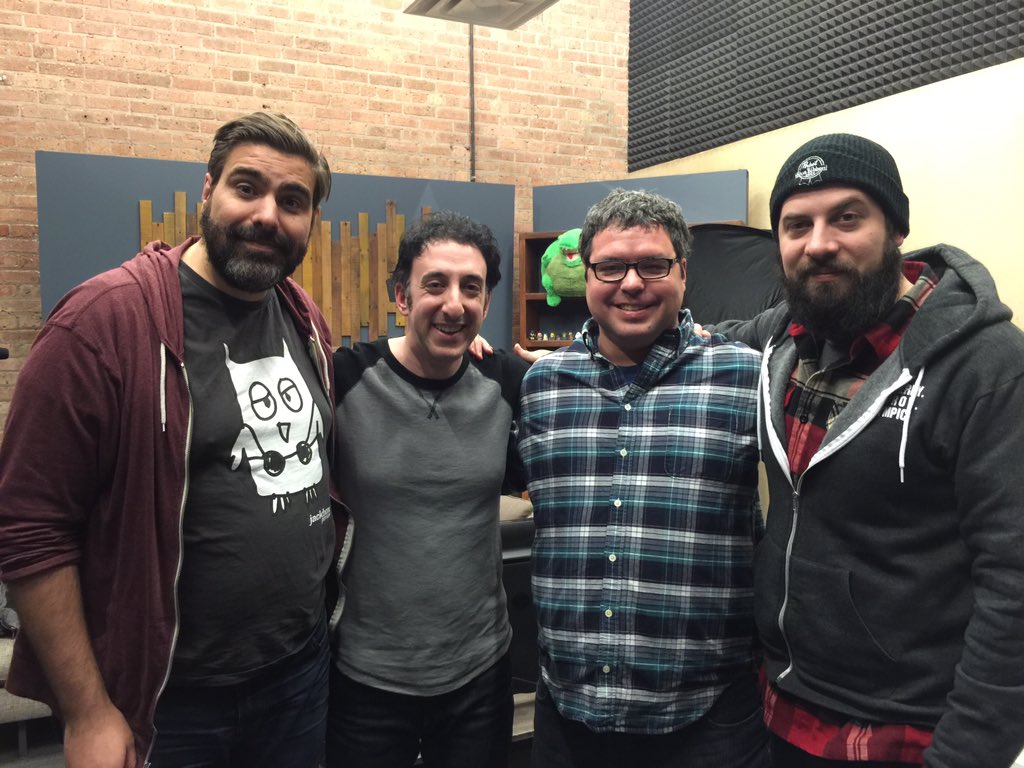 Arnie, Peter Smith, Usidore, Chunt
page revision: 38, last edited: 12 Feb 2021 16:52