Season 1, Ep 74 – Letters and Packages
"Letters and Packages" is the seventy-fourth episode of season one of Hello from the Magic Tavern. It was originally released on August 8, 2016.
Description
"Time to catch up on our many letters and packages."
Summary
Arnie awkwardly interrupts his own intro to attempt to explain podcatcher apps and RSS feeds. Chunt and Usidore, however, say they finally feel enlightened and psyched. Chunt is trying out "bling blong" as an alternative catchphrase this week. In place of his name, Usidore tries to give an elevator pitch for the podcast. They then have a fight over whether or not the audience needs to hear the usual intro every week, whilst Arnie continues to deliver it.
Arnie announces that there is no guest this week as he was unable to find one, in spite of an influx of shady customers (according to Usidore) due to looming threat of war (also according to Usidore). They conclude that instead of Boys' Night, it will be Letters & Packages Night. Usidore threatens to whisper for the entire podcast, due to his suspicions of spies in the tavern.
They begin opening packages, starting with Chunt.
Package from Tori from Dallas, TX containing:
For Arnie: a mug reading "I'm a Dad, What's Your Superpower?" which he decides to use for Red Potion, and What-A-Burger Spicy Ketchup
For Usidore: a temperature-responsive Doctor Who mug (Arnie has to explain what Doctor Who is, which leads to most of a "who's on first" bit and comparing the Doctor to a "not as cool" Can the Wizard)
For Chunt: a royal scepter and a mug with a crown on it that says "It's Good to be King"
(pictured in Behind the Scenes below)
Arnie says that they've gotten behind on emails and can't read them all, so Chunt thoughtfully offers to help him with reading. Arnie insists he can read and shares an email from a Mike Smith, who is displeased with his extremely common name and wishes to challenge Usidore for his. Usidore challenges Mike Smith to come to Foon for a wizard fight, with a long, graphic, and impractical description of what he plans to do with the challenger after he loses. Chunt then calls out the listener's father, John Smith, to fight him. Arnie talks them down, but convinces Usidore to ask Mike Smith to email them proof of his supposed wizardly powers, suggesting he sit on a cucumber and make it disappear.
Usidore reads a letter from Shelby and her sister, who have sent cards for Tomblain Belaroth and Trachea-Aurelia Belaroth on the death of King Albain Belaroth. Shelby promises they have not given away what really happened, which they in fact have. They also ask for confirmation that doves cried when the King passed away (yes).
Arnie says that they've received a number of emails following up on whether Tomblain did the Bat Dance after his father's passing, as per custom to prevent some terrible consequence for Foon. Since Tomblain is undercover in Shrike, they don't know, and aren't certain he's aware his father has died. Usidore compliments Earth on the sympathy (for Tomblain) and congratulations (for Trachea) cards and Arnie tries to explain mass production, ultimately saying that they came from a magic box that poops them out. Arnie promises to pass along the cards.
Arnie reads an email from Clint Chellach(?), asking a) whether Chunt or Usidore has more teeth, and b) who has more fine cutlery. Usidore says he would win both, and that he owns every fork ever created. Chunt accuses Arnie of being jealous he gets more packages.
Chunt reads an email from Rachel Lobo in Canada, who wants to know if he'd still be king of the badgers if he changes shape. Chunt says the badgers know he's a shapeshifter, but may have just been taking pity on him thinking he was dying, and intimates they've started clumsy assassination attempts under guise of toast buttering.
Arnie reads an email from Eve from Kansas City, who wants to know if trans women are accepted in Foon. Chunt and Usidore both assure her that while some in Foon are still small-minded, trans people - and in fact all people - are welcome in Foon and at the tavern. They subsequently try to call themselves out on their own biases, concluding with Usidore admitting he's "intolerant of evil".
Chunt reads an email from Monroe from Spain, who wants them to know they have an international listenership even among those who speak English as a second language. Arnie subsequently tries to explain the European Union, landing on describing it as a polygamous, committed marriage between countries. They all request listeners with cool accents to send in recordings of themselves saying Usidore's full name.
Now that Usidore and Chunt have both issued challenges, they realize the half year deadline for Arnor to return and fight Arnie over his lacking feats has passed, and he's definitely going to lose.
They speed through some more emails:
From Cody: Why has Usidore switched from Grand Master to Master of Light and Shadow?
Answer: He felt it was too ostentatious.
From Chris: Has Chunt been a cat?
Answer: No, but he's interested; Arnie suggests he spy on Blemish.
From Wes: English teacher introduced the class to the podcast and it's become very popular at the school. Has Arnie ever mentioned The Foo Fighters on the podcast (no) and can they be worked in?
Answer: Arnie promises they will be, and refuses to explain them until next week.
Foon sponsor
Blemish, advertising his ownership of a more evil Vermilion Minotaur.
Earth references
Disney's Pochahontas
"Ask" — The Smiths
"Meat is Murder" — The Smiths
Johnny Marr (Guitarist for The Smiths)
Morrisey (Singer/ Songwriter for The Smiths)
Behind the scenes
Letters and Packages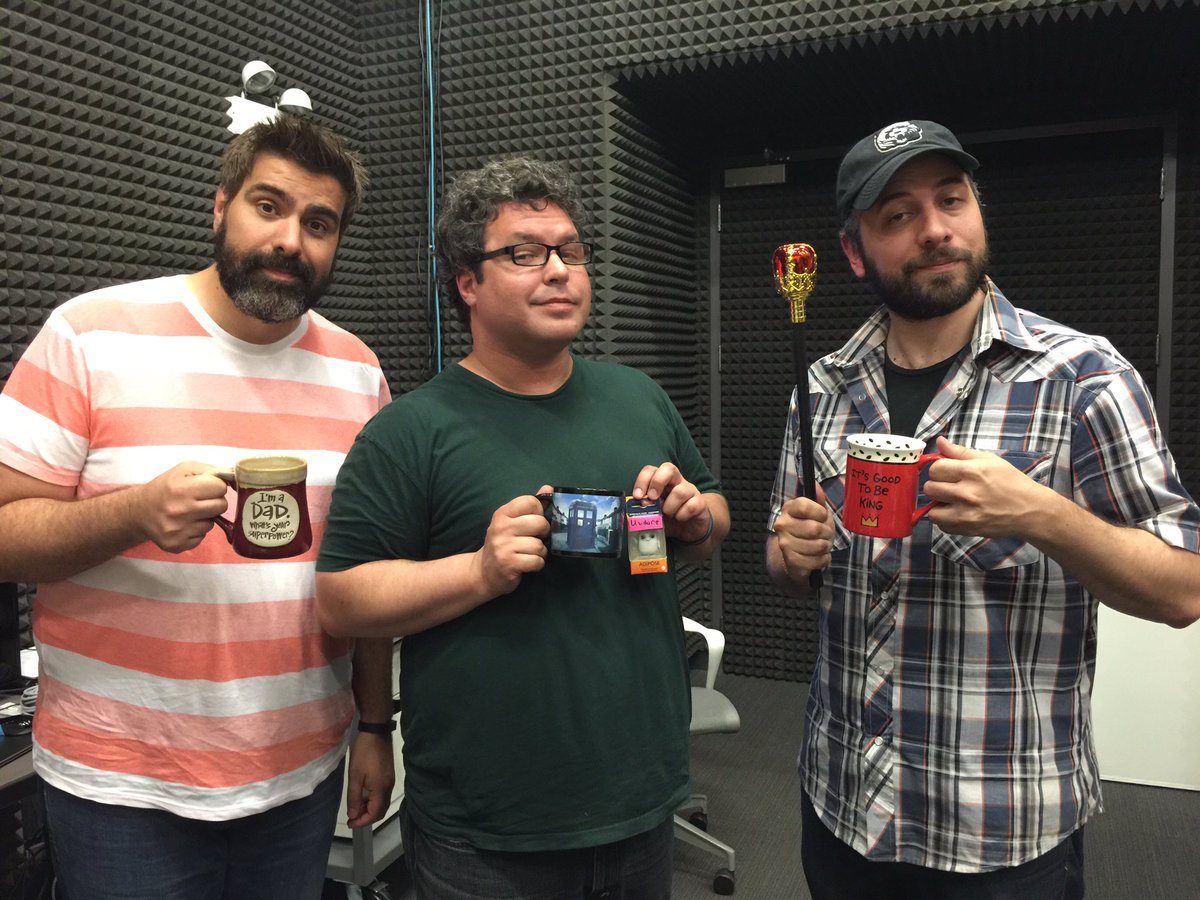 Arnie, Usidore, Chunt
page revision: 30, last edited: 13 Jul 2023 01:26