Season 2, Ep 16 – Tom the Girlfriend
"Tom the Girlfriend" is the sixteenth episode of season two of Hello from the Magic Tavern. It was originally released on July 3, 2017.
Description
Baron Ragoon has brought his new girlfriend to the Tavern. She seems vaguely familiar. Also, Blemish is around.
Summary
Arnie introduces the podcast and is still worried about the Dark Lord taking over Foon, imprisoning them, and making them do the podcast. They still enjoy doing it though. Arnie checks in with Chunt, who is embracing and enjoying his new guard position. He found Pimbly Nimblebottom, stuffed above the big turtle guy's fireplace. He's still alive, just in a lot pain.
Arnie went over to Kellory Potter's pottery store, who is now saying instead of a witch stealing her children, a goblin has stolen her nephew and needed to sell everything in the store or they will kill her nephew. Arnie suspects it is a scam.
Blemish comes over to the table, reminding them of their anguish. Usidore pretends to be old and weak. Blemish tries to get down on Chunt, but Chunt reminds him that he's a guard. Then he rounds on Arnie, who is really unphased. Usidore tries convince Blemish to get them a round of drinks for old time's sake, but Blemish retorts and tells them all to suck on his cat dick.
Baron Ragoon comes over and orders Blemish to bring a round of drinks for the table. Baron asks Chunt to report his findings, and Chunt says there is a big old turtle guy. Chunt also recommends Cockroach Clown for a promotion. Baron is confusing Cockroach Clown and Wheelbear, and says that Wheelbear is getting the promotion instead. Blemish comes back to the table with everyone's drinks (empty flaggons for the trio, unfortunately) and Baron says that he'll need one more actual full mead for his guest.
Usidore asks Baron who his guest is. Baron is very nervous because he has a lady friend with him today. She comes over to the table and Baron introduces everyone. Chunt remarks she looks familiar. Lady Eliza Parts is from the Hidden Valley. She confesses that she is evil just like Baron and Usidore asks her what evil deeds she has done. She says she hurts things all the time.
Eliza is for some reason able to describe in graphic detail how Baron's wife perished in lava, which is a bit odd for someone who says they were nowhere near where it happened. Chunt tells Baron that it is "Truth-hurty" and Baron takes his leave. Eliza says that tonight is the night that she shows him her cunt knuckle. Arnie tells Usidore and Chunt under the table that he thought Baron was dating Tom in disguise, but Chunt says that when she talks he can hear her vagina. Arnie says she's an evil lady. Eliza ducks under the table to eavesdrop. Eliza finally drops pretense and unveils himself to be Tom. They are all astonished.
Tom feels trapped and is afraid that the Baron is going to find out the truth tonight. They ask Tom what are some of the excuses that he's been giving the Baron when going to bed at night and the first one he says is "a headache", which is where he punches the head of the Baron's penis. Tom also tells him that he's on his period, which is a period of sadness. Arnie suggests that Tom tells the Baron that he has a blaz, which is another type of genitalia in Foon, and Tom is convinced that Baron won't fall for it because he let Tom know that he will be spending a lot of time "down there".
Tom says that he's pissed that they sent him to spy, which he did, but everything's gone to shit and they are under occupation. Arnie asks to see Tom's notes. Tom says that Baron has just been spending a lot of time trying to solve this riddle:
A cave beneath the orange beast,
One door west and three doors east.

Down and down and down you go
Until the river starts to glow.

Face to face with Swamps McGee
Shall see the breaking of the three.

Below the water man must grope
Until he finds sweet Penelope.
They ponder the meaning of this, the Orange Beast Riddle, and confirm the big old turtle guy who is holding Pimbly is Swamps McGee. They try to give Tom some excuses to take his leave. Usidore feels that it's time to let Tom go. Tom has spent so much time as a lady, but it feels dated to him and he's done with it. Arnie tells him to be himself now and the boys devise a plan to tell Baron that Lady Parts has absconded into the woods, declaring her love for the Baron but is very distraught. Tom declares that he will play a series of bats instead.
After the break, Arnie compliments Tom on his series of bats costume, but realizes he's looking at actual bats, then recants his statement. Usidore yells at Arnie that he doesn't know theater. Chunt suggests they blow out the candles to let Tom convince them audibly that he's a series of bats.
"Hello, I'm a series of bats." Well, I'm sold. There's a bit about breaking 4th walls, and they turn the lights back on. However, the Baron comes back over looking for his Lady Parts. A series of bats excuses himself and Baron apologizes. He asks where his lady is, and a series of bats confesses that she ran off to the woods to get ready for intercourse. Usidore confirms that she was distraught and confused. Baron seems not all that surprised. A series of bats asks the Baron if he wants them to come home with him. Usidore points out that this will not solve a series of bats' problem.
Baron asks a series of bats for advice on preparing for consummation. A series of bats again suggests to the Baron that he takes a series of bats home for sex. He's so committed to his character, but Baron declines. Blemish offers to have sex with a series of bats, who agrees, then whispers to the boys that this is terrible! He suggests more lewd things, and again freaks out. Usidore suggests using his acting skills to act like a less talented actor. Blemish offers to take a series of bats down to the basement, and Tom decides to confess he's not a series of bats after all.
Tom confesses that there's another weapon that the Dark Lord is looking for, and Arnie reminds him that he already found the lunar sword, but that's not what Tom is referring to. Apparently, there is also a map but Tom destroyed it. The Dark Lord doesn't want Arnie to use his power (no, not the power of podcasting). Chunt writes down the riddle and Usidore eats it so that he will remember it forever.
Emails
From PsychoDuck - Here are some books for the Book Club: HIS Dark Materials, Animorphs the WEAKNESS, Treasure ISland, Ready Player ONE, Lord OF THE Flies, The BUTTer Battle Book, HOLES.
New characters
Swamps McGee, the big ol' turtle guy
Additional appearances
Earth references
Notes
Blemish mistakenly addresses Lady Parts as "milord."
Behind the scenes
Tom the Girlfriend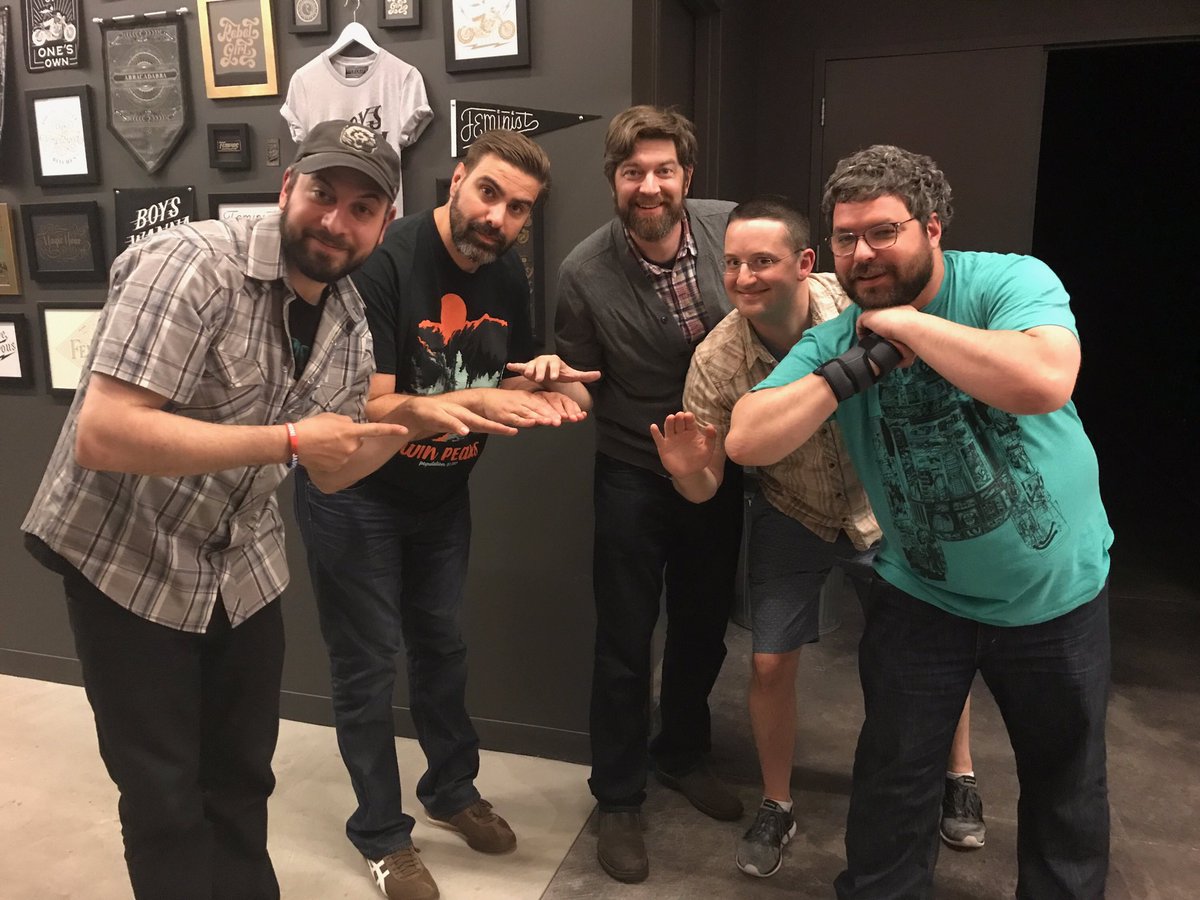 Chunt, Arnie, Baron Ragoon, Blemish, Usidore (not pictured: Lady Eliza Parts / a "series of bats")
page revision: 23, last edited: 18 May 2023 15:15