Season 2, Ep 17 – Crazy Jared
"Crazy Jared" is the seventeenth episode of season two of Hello from the Magic Tavern. It was originally released on July 10, 2017.
Description
Lots of things are changing in the tavern. But can Blemish ever change?
Summary
Arnie is hesitant to start the podcast because Chunt is MIA. Arnie introduces Usidore in the meantime. They don't know where Chunt is, but there is a dumb looking flamingo standing near the table. Turns out… that is Chunt! He was embarrassed at first, but then regales us with a tale about being at a soiree in which they were using flamingos as croquet mallets, and he came to the rescue of one flamingo, who was very impressed and took him to bed. Unfortunately, Usidore has not been having that good of a time, as he's been stuck in the drawer they keep him in.
Baron comes in looking quite disheveled. He's very dirty. Arnie sort of sympathises with him, even though Arnie clearly knows he's working for the Dark Lord. Baron reminds them all of what happened last time with Lady Parts. He went into the woods, which is not doing well with the Dark Lord being in control of Foon. Baron got apples thrown at him, and the shack he found to hide in was on duck legs and ran him into the lake. Luckily, a series of bats kept him company. Usidore informs Baron that they found a glass slipper when Lady Parts ran out.
Blemish comes over and tries to shoo Chunt out before realizing who he is. They all want to know what Blemish's deal is, so Chunt creates some ink blot tests, and Blemish mostly sees buttholes (his, his father's butthole, his father's dead butthole). This leads Arnie to ask if his father was dead or his butthole. His butthole died first. Then a year later, his father died by choking on a spiced potato. Usidore callously asks Blemish for an order of spiced potatoes. Baron then makes him do it after he refused.
Arnie and Chunt are concerned about Usidore, since he just scarfed down a bunch of food. Usidore complains about being crammed into a drawer, and Baron offers to put Usidore in a bigger cell if he swears fealty to the Dark Lord. Usidore refuses, and Arnie and Chunt try to see if maybe Usidore can lie about swearing fealty, and Blemish says it can't be done. Usidore tries to get Blemish to unswear his fealty to the Dark Lord, but he says that the Dark Lord is the only one who pays attention to him. Usidore offers that it's not good attention that he's getting, and Blemish says too little, too late.
Chunt suggests that maybe Blemish needs a nickname. They try out "Mish" but Blemish doesn't care for it. Arnie asks what are some evil nicknames he could have:
Spiderface
The Sting
Crazy Jared
That last one hits him, and he demands everyone start calling him Crazy Jared. Usidore starts groveling and begs for rooster's feet. Blemish obliges after getting Usidore to say that he's his best friend. When Blem…Crazy Jared leaves, however, Usidore says that he's not going to swear fealty still.
Baron lets them know that the Dark Lord wants more attention to be put on the podcast from Earth. Usidore defers to Arnie, since that is really his realm of expertise. Arnie talks about getting more listeners and how that could help them defeat the Dark Lord. Usidore suggests people walk down the street and scream about the podcast. Baron says that's how he found out about the Dark Lord, and that the person was also named Crazy Jared. They start to brainstorm, and Usidore suggests they put really long ads in.
Baron asks Chunt to look after Crazy Jared, since Chunt is starting to "warm up to the idea of evil". Baron explains that Florence is working for the Dark Lord, creating a war machine. Arnie has an idea to gain listenership: post a video of yourself convincing people to listen to the podcast, and hashtag it with #treesistance.
Baron mentions he's been thinking about the riddle about Penelope Penelope. Arnie wants to know what Baron thinks about the meaning of the riddle. He ponders about what the orange beast signifies and then suddenly states that it must be referring to the fat orange cat on the table and tells everyone that he's going down to the cave beneath the Vermilion Minotaur.
The cat nudges a box towards Chunt that has a piece of parchment that says "Look for the liquid swords". Arnie says it probably refers to dicks. Chunt says there's something on the back: "GZA". Arnie wants to find all the secrets within the Vermilion Minotaur. Since Chunt is in with the guards, Arnie suggests he try to get them more access to the tavern. He also wants to get rid of Crazy Jared.
Foon sponsor
New characters
Additional appearances
Earth references
Notes
In an extra clip at the end, Princess Trachea-Aurelia Belaroth and Benedict Whisperbrew are still trying to mount their play with Metanoid in it, but none of them are getting along.
Hungor was played by Matt Young.
Behind the scenes
Crazy Jared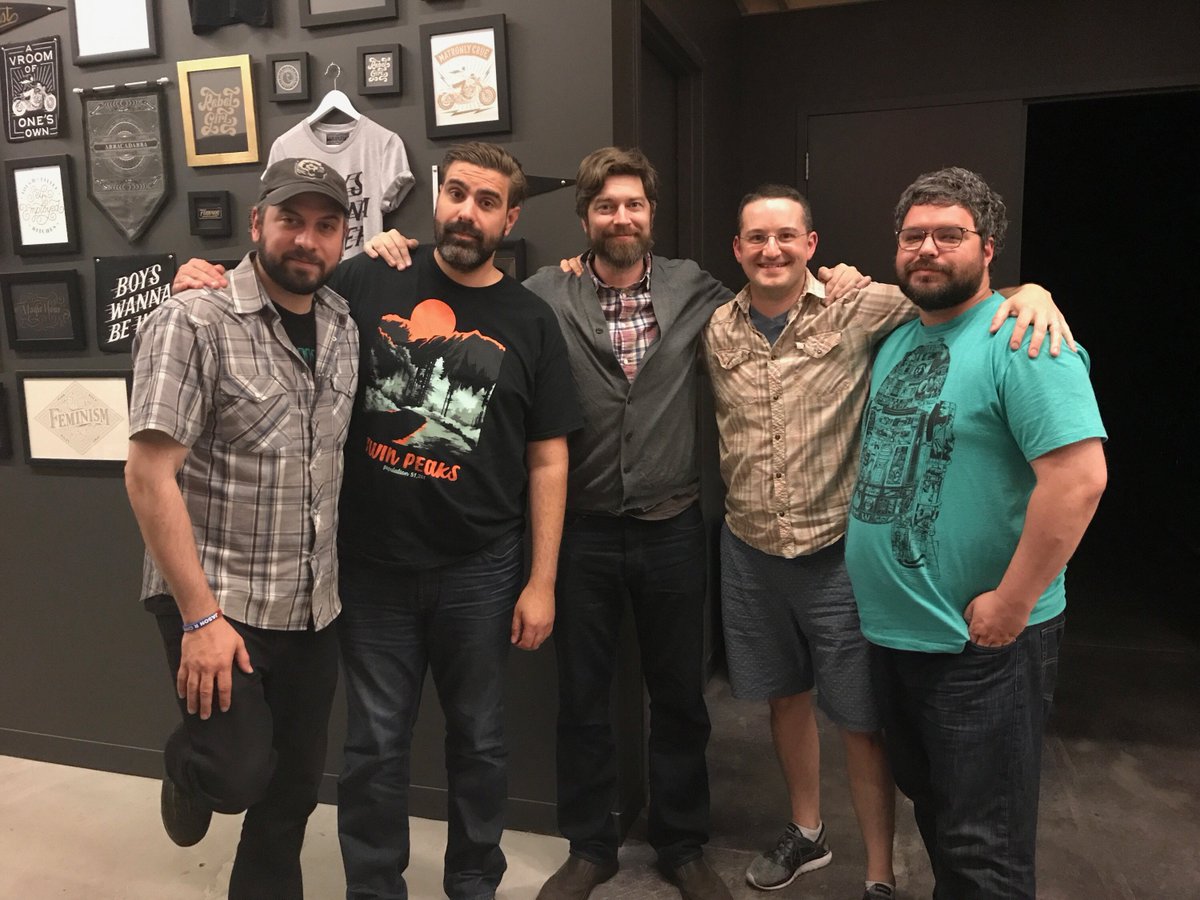 Chunt, Arnie, Baron Ragoon, Blemish (AKA Crazy Jared), Usidore
page revision: 17, last edited: 18 May 2023 15:15