Season 2, Ep 44 – Deputy Weaver of Parallel Truths (w/ David Plotz live from Washington D.C.)
Season 2, Ep 44 - Deputy Weaver of Parallel Truths (w/ David Plotz live from Washington D.C.)
Air Date: January 22, 2018
Episode Link
Previous Episode
S02E44
Next Episode
Hosts: Arnie, Usidore, Chunt
Guests: nymbee and Deputy Weaver of Parallel Truths Conrad Von Plotz
Producers: Arnie Niekamp, Evan Jacover, Ryan DiGiorgi
Editor: Garrett Schultz
Theme Music: Andy Poland
Logo: Allard Laban
Audio Assistance: Jason Knox
Production Assistance: Garrett Schultz

Sponsored by: The Walk podcast and ZipRecruiter
Description
"We interview a mouth piece of the Dark Lord in a packed tavern. We're also joined by a solo nymbee of nymbee and Grundle. (Recorded live at the historic Sixth & I synagogue in Washington D.C.)"
Summary
Songs by nymbee included:
Wonder Wall
Sex is Fantastic
Foon's National anthem
Fake Moos
Lutin' in Foon
Foon Sponsor
Danielle Kurtzleben, live from FPR (Foon Public Roundtables) where they discuss the day's events, announcing their new politics podcast
New Characters
Additional Appearances
Earth References
Burning Man
"Wonderwall" - Oasis
Donald Trump
The White House
Trump's alleged relationships with younger women
"Not my President"
Immigration laws
"Fake news"
Bye Bye Birdie
Flyover states
Women Presidents
Obamacare
Bernie bros
"Thoughts and prayers"
Gun control
Legalization of marijuana
"If guns are outlawed, only outlaws will have guns"
Waiting period for firearms
Background checks
Willy Wonka and the Chocolate Factory
Notes
This is the first time the boys may be aware of the Technical Difficulties Witch after hearing her cackling at the end of the live show portion
Behind the Scenes
The audience's laughter at the end was from Usidore waving his wand around like a maniac while defending responsible wand laws
Material that didn't survive the edit:
The fans in the front row with homemade #squadghouls t-shirts hand-lettered them with a pen like Claudia does
Chunt asking "Hey Arnie, what's that weird trident?" while pointing out a menorah behind them
References to Dinosaurs, Creepshow, Bad Santa, Spiro Agnew, Spyro the Dragon, Spy vs. Spy, RuPaul's Drag Race (sashay away)
Danielle, nymbee, Usidore, Arnie, Conrad von Plotz and Chunt.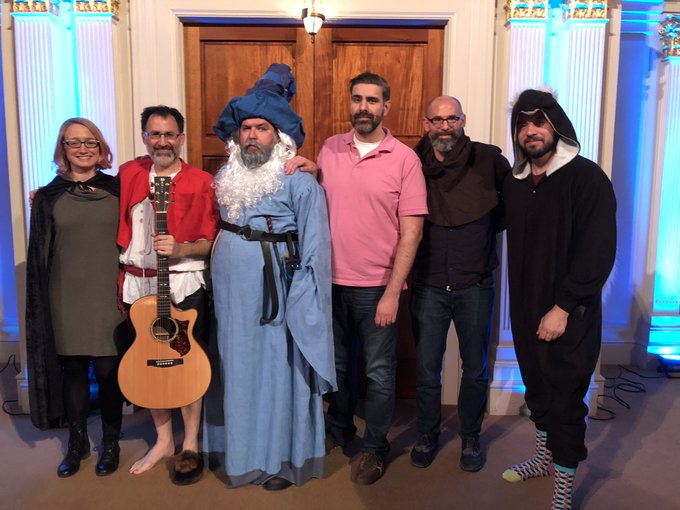 page revision: 12, last edited: 31 Jan 2018 02:45